2021-2022 Fellowship Events
World Interfaith Harmony Week (WIHW), which promotes harmony between all people regardless of their faith, is an annual event observed during the first week of February. WIHW recognizes the importance of mutual understanding and inter-religious dialogue for promoting a culture of peace and nonviolence. Abrahamic House, in partnership with Music & the Earth International (musicandtheearth.org), hosted a virtual event highlighting how coming together across faith traditions and geographic boundaries, through music and ecological programs, can promote peace, harmony, and a sustainable planet. We are so thankful to our six speakers, including Priya Parotta (founder of Music & the Earth International) and attendants who shared their insights and traditional instruments and music with us.
---
Thank you for joining us for a volunteer day in honor of Dr. Martin Luther King Jr. We cleaned trash from the woods of Suitland Pkwy in Southeast DC in collaboration with Ward 8 Woods Conservancy, a grassroots non-profit with the mission of restoring more than 500 acres of forest in Ward 8 of Washington DC. Ward 8 Woods is the only environmental organization dedicated solely to Ward 8, a historically Black community, and the only green jobs program specifically for Ward 8 residents. This day coincides with the Jewish holiday of Tu B'Shvat. Tu B'Svhat, or "New Year for Trees," is celebrated by Jews around the world as an ecological justice day.

---
The Abrahamic House, in coordination with the German Embassy in Washington, D.C., hosted a virtual short film screening and discussion with Ms. Anke Popper on International Holocaust Remembrance Day.
Over 75 years after the end of the Second World War, Holocaust memory is under threat. Holocaust distortion is on the rise and is eroding our understanding of historical truth. The International Holocaust Remembrance Alliance (IHRA), of which Germany and the United States are members, has decided to focus this year's Remembrance Day on this issue and has launched the #ProtectTheFacts campaign to counter Holocaust distortion.
Anke Yael Popper, First Secretary at the German Embassy:
As a career diplomat Anke is the Head of the cultural section of the German Embassy. Prior to working as Head of Real Estate Management Europe at the Federal Foreign Office in Berlin she has been posted to the German Embassy in Tel Aviv/Israel where she was Head of the Economical Department.
Anke has gained experience in the German Ministry of Foreign Affairs at the department for Environment and Climate and at first posting as a diplomat in Ljubljana/Slovenia after her diplomatic training.
Born in Germany, Anke graduated at the College of Foreign Affairs in Bonn. After her studies, she has gained experience at embassies in Bucharest/Romania and The Hague/Netherlands and has also worked in Berlin as Deputy Gender Equality Representative of the State Department.
Anke lives in Rockville and is married with two children. She speaks German, English, Hebrew, French and Romanian.

---
Abrahamic House held a virtual gathering to explore what various faith traditions teach about humanity's responsibility to care for creation. Inspired by Scriptural Reasoning, a method of comparing texts on a common theme found within different Holy Books, we compared texts and modern day statements about humanity's relationship with the environment from within Abrahamic and non-Abrahamic religious traditions. This was a chance to learn and reflect upon what different traditions have to say about ecology and care for our common home, Earth.
This event catered to 26 guests, including Sahar Alsahlani, Mat McDermott, and Irene Woodard of GreenFaith network; Br. Cristofer Fernández of OFM Conventual; and Rabbi Devorah Diana Lynn of Jewish Earth Alliance. Some participants were Kelly's personal contacts from the Secular Franciscan Order, Faith + Food Coalition, Catholic Worker, and Georgetown University Berkley Center for Religion, Peace, and World Affairs.
---
Around Christmas, the time of Jesus' birth, Abrahamic House hosted a gathering to explore the story of the birth and teachings of Jesus from both Muslim and Christian perspectives. We heard from Dr. Zeki Saritoprak, author of "Islam's Jesus", and Fr. Thomas Bonacci from the Interfaith Peace Project, as they discussed the historical figure of Jesus and how coming together around his teachings as found in the Bible and the Koran can bring us towards a more peaceful world.
---
Thank you for joining us on Kurdish Flag Day as we celebrated the cultural heritage of our fellow, Haima. This event was hosted in partnership with the American Kurdish Information Network (AKIN) and included informational sessions followed by Kurdish music, dancing, and food.
---
We hosted a low-key Channukah party in celebration of the 7th night of Channukah! We lit candles, did a quick Havdallah (celebration of the ending of Shabbat), and ate sufganiyot.
---
We had Native Americans, Franciscans, Catholic Workers, Muslims, Jews, and others join both in person as well as virtually. Rose Powhatan from the Pamunkey Tribe and the Powhatan Museum attended in person and gave a land acknowledgement. Sara Wolcott discussed the Doctrine of Discovery, the papal document that allowed for colonization of the Americas. Chef Nephi Craig discussed the importance of decolonizing our foodways and diets from a Native American perspective, and then Denisa Livingston from Diné Community Advocacy Alliance discussed the importance of solidarity with Indigenous peoples, and the Native American Seed Protection Act. Chloe Noel from Maryknoll Office for Global Concerns discussed Pope Francis' efforts to protect the Amazon through REPAM as well as the FOREST Act. We listened to a Thanksgiving Address from the Haudenosaunee and then those of us in person shared a meal together. Recipes were from: Ramona Farms (Wheat Berry, Beet and Pecan Salad with Pomegranate-Orange Vinaigrette), Intertribal Agriculture Council (Acorn Squash and wild rice stuffing), JustFaith Ministries Sacred Land: Food and Farming program (Three Sisters Stew), Sakari Farms (teas), and Recipes from Turtle Island Cookbook (Sun Cookies).
---
We hosted our first Shabbat dinner! Shabbat is the Jewish day of rest, but it is also a day to sing, gather with friends and family, and eat good food. We invited guests to wear what they would to visit their grandparents and bring an appetite! This in-person event was at maximum capacity of 15 guests, and 80% had attended their very first Shabbat dinner.
---
For our first event of the 2021-2022 fellowship, we invited Dr. Jonathan Ebel to give us a virtual talk on Veterans Day to discuss the role of religion and the memory of American soldiers. Dr. Ebel is a Guggenheim Fellow and a professor in the Department of Religion at the University of Illinois.
2020-2021 Fellowship Events
Despite stay at home orders coming into effect shortly after they moved into their new homes, the Inaugural Abrahamic House Fellows planned a myriad of interfaith programs and engagements for surrounding communities in Los Angeles and across the world! Here are their accounts of their events, including links to their blog.
---
April Holiday Celebrations
We came together to celebrate each of our four April holidays: Ramadan, Ridvan, Passover, and Easter. Read about our experience on our blog, and check out our Multi-Faith Holiday Guide here.
---
Ridvan Care Packages
As an April offering from the Abrahamic House, we sent out Ridvan care packages. Ridvan (pronounced "rez-vawn") is a 12-day festival celebrated by Baha'is. It commemorates Baha'u'llah's declaration in the Garden of Ridvan where he proclaimed that he was a prophet from God.
---
Fasting Symposium
We held a virtual symposium on fasting, featuring speakers discussing fasting in different faith traditions.
---
A Summit on Faith and Justice
What is the relationship between faith and justice? How can they inform one another? We held a special learning on the intersections of faith and justice.
---
Multi-Faith Devotional
We held a devotional– an informal, virtual space intentionally dedicated to sharing prayers and elevated text. This event's theme was "grandeur," a word which means "splendor, might, glory, or greatness," and is a reference to the Baha'i month (May) that the event falls in.
---
Film Screening: A Prayer Beyond Borders
We launched a new film series with a screening of resident Ala' Khan's short film, "A Prayer Beyond Borders." We watched the film together and heard from the filmmakers and community leaders about their work on the US Border.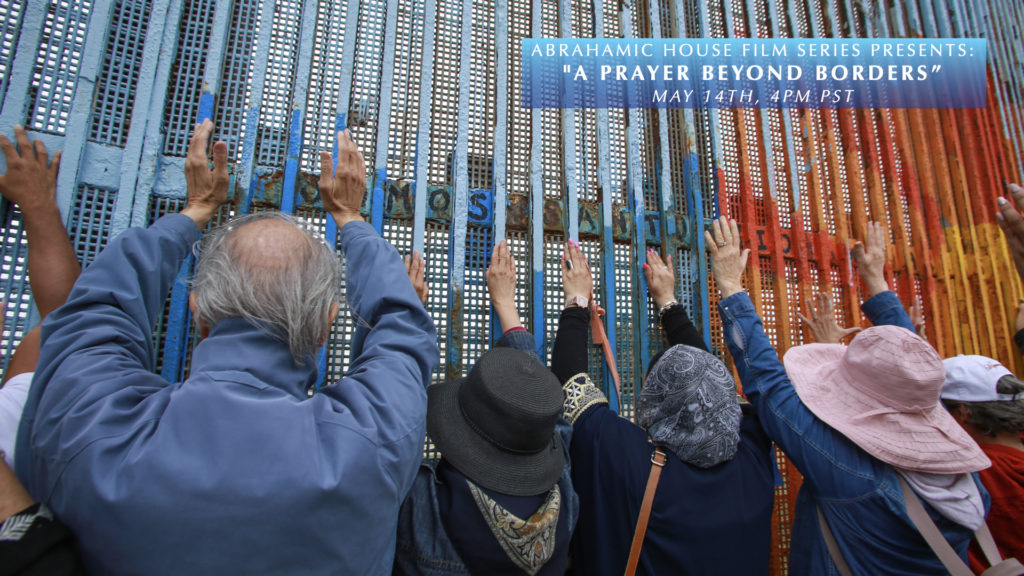 ---
Multi-Faith Feminism All Night
In honor of the Jewish holiday of Shavout – a holiday that marking the celebration of wisdom by staying up all night to learn – we held a Multi-Faith Feminism All Night featuring workshops on feminism from all over the world.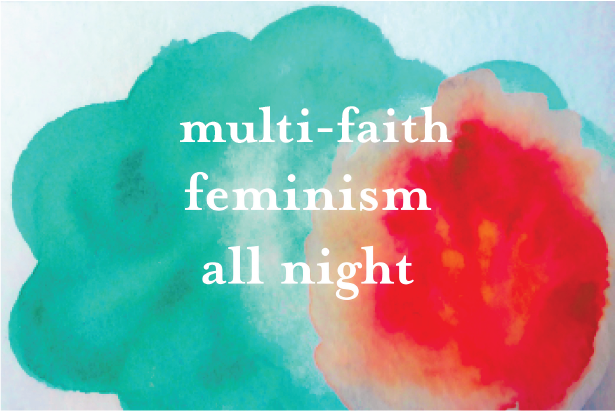 ---
Spiritual Will-Writing Workshop
One certainty all humans face, regardless of their background, is that one day we will all die. In this two hour interactive online workshop, we learned about established traditions for recording and passing on non-material assets and we explored new approaches to share and preserve the story of our lives.
---
New Moon Feminist Dance Party
Women, nonbinary, and trans people from all over the world came together for a New Moon celebration! We opened with a ritual / grounding meditation for the solstice and eclipse. And then DJ Lindsay Zae spun tracks from non-cis men artists. Throughout our dance party, we also raised funds for Trans Women of Color Collective.
---
Cooking with Abrahamic House
Our Fellows joined with The League of Kitchens' Argentinian instructor, Mirta, to learn how to make pillow-soft gnocchi, fresh pesto sauce, and a zesty oregano, tomato, onion, and avocado salad!
This 2.5 hour online class was a special, meaningful opportunity to share cooking, culture, and connection–just like our real life experiences.
---
Embodied Meditation
We joined together for an embodied interactive meditation experience that connected us with our heart, mind and body. Together we learned how to be with the anxious mind and how to rest into heartfelt connection.
---
A Conversation on Grace
We had a Grace-filled conversation, using the model of a Ben Franklin Circle. We explored the meanings behind this powerful virtue and what it looks like to practice Grace as an individual or in community, and we set intentions for living more Grace-fully in the month that followed.
---
Seva
We hosted a virtual film screening for Seva, a film by Rippin Sindher that explores the idea of selfless service from the Sikh perspective. After the screening, we had a wonderful Q & A discussion with Rippin and a couple others involved in the film.
---
A Center in A Table
We hosted a virtual dinner party as part of an ongoing performance-video series by LA based artist Amanda Maciel Antunes and brought together a group of people in sharing their collective memories regarding their relationships with food and one another.
---
Art Party
We hosted an art workshop that explored what community means. It was led by art educator and art therapist Savera Iftikhar. We had a great time taking a break, reflecting, and expressing ourselves creatively.
---
Makam Shekhina
A multireligious community of Hebrew Priestesses and Sufi Dervishes led us in an immersion into Hebrew and Arabic chant. We prayed and played together in realms of counter-oppressive devotion. Led by Taya Ma Shere, Aliya Choudhery and Sukina Pilgrim.
---
Monday Night Live
Our Fellows gave us a peek at their weekly Monday night dinner meetings to see what was on the menu and the agenda. We got to hear about what they've been up to and ask questions of our own.
---
---
---
Artist Talks
The Fellows host a series of Artist Talks throughout the month of November. Each session features two to three artists sharing their work, their practice, and their faith.
Session 1 Featured:
Kaija Sabbah – Goddess Culture @kaijasabbah
Christina Rountree – Eyes Closed: Drawing the Missing Ummah www.christinarountree.com
Maribel Valdez Gonzalez – Lesson Planning for Liberation https://sites.google.com/view/dreamteamstem/home?authuser=0
---
Session 2 Featured:
Keisha Soleil (The Hood Alchemist) – You could be the greatest story ever told https://linktr.ee/keishasoleil
Jack Pitts – St. Andrew and St. Thomas Insist on the Created World www.jacksonpitts.net
Elan Gerzon – Weaving in the Middle East and Beyond www.razalaweaving.com
---
Session 3 Featured:
Amanda Maciel Antunes – Reflections on Time amandamacielantunes.com
Verenice Berroa-Torres – Nature is here https://www.etsy.com/shop/cocreatingwithplants
---
A Conversation About Allyship & Solidarity
Abrahamic House Fellows talked about what allyship and solidarity looks like in building safe and inclusive diverse communities.
This was also an opportunity for the audience to share what allyship means to them and be in conversation about how to build more just, respectful, and nurturing spaces.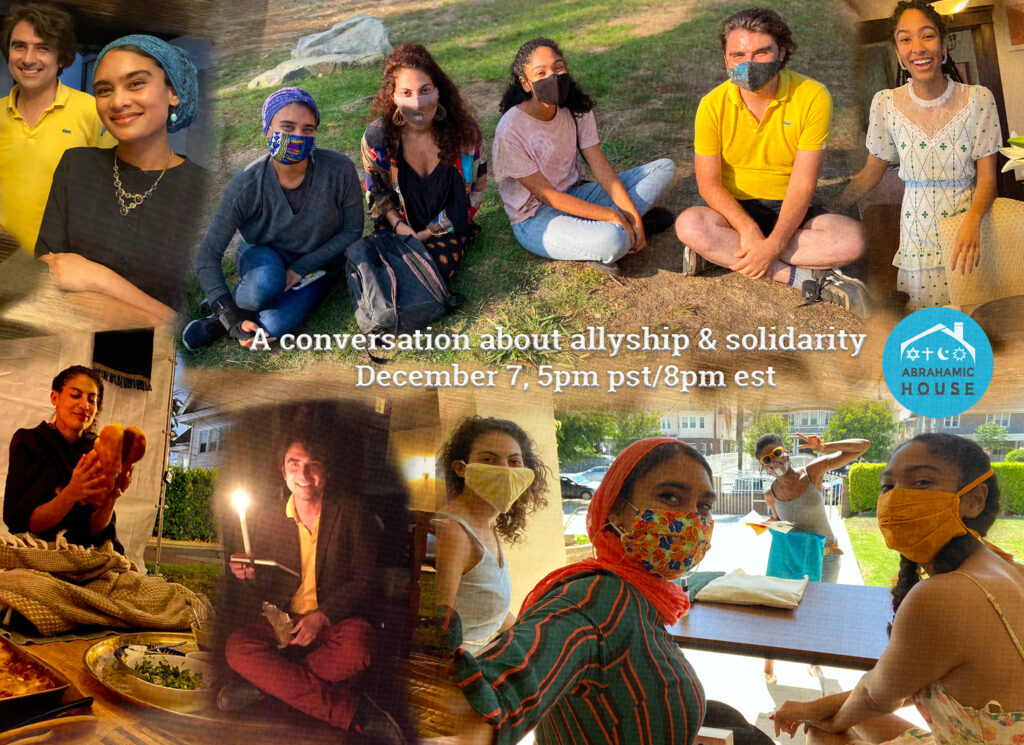 ---
SO much to celebrate, as the Shebi Arus / wedding night of Mevlana Jelal ad-Din Rumi converges with the last night of Chanukah, and the coming winter solstice and birthday of the beloved Sheikh Ibrahim Baba Farajaje. Join Makam Shekhina community, as Taya Mâ and friends invite us into lush, percussive prayer in feminized Hebrew, English and Arabic, drawing liturgy from the multi-faith Jewish and Sufi Muslim community steeped in counter-oppressive devotion. This is also their album release party (!!!!) and we'll delight in delicious new tracks. With teaching from Abrahamic House Fellow Hadar Cohen, whirling from Miriam Peretz, and more! All are welcome!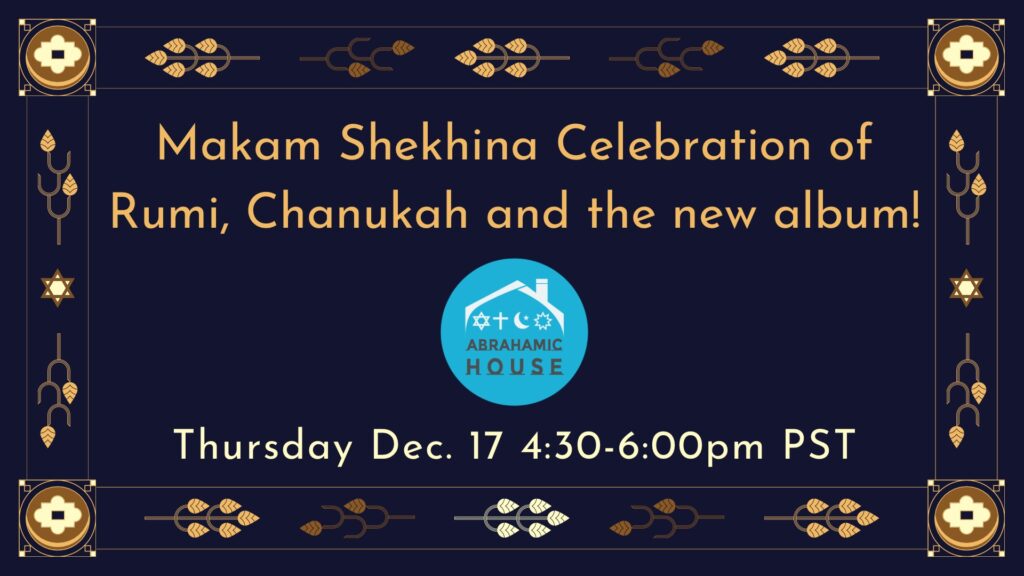 ---
Join Sheikh Ghassan Manasra and Rav Kohenet Taya Mâ Shere for a zikr (sufi prayer / chant), teaching and conversation, on this last day of Chanukah and afternoon of the Shebi Arus / celebrated death anniversary of mystic poet Mevlana Jelal ad-Din Rumi. Come, come, whoever you are ~ with an open heart, a desire for inspiration, nourishment, possibility and prayer. All are welcome!
---
Join the Abrahamic House community for a casual afternoon of getting to know one another! We welcome anyone who has been to one of our events in the past and those who are new to the Abrahamic House community. There will be opportunities to meet new people in breakout rooms, share stories, and network.
---
For many Christian communities the four weeks leading up to Christmas, known as Advent, is a time of expectation and preparation. In observance of this holy time, the Fellows will release a video meditation each Monday of this four week season inviting you to join our exploration of Advent's central themes: Hope, Peace, Joy, and Love.
---
Inaugural Fellowship Graduation
Almost one year ago, four strangers from different faith traditions moved into a house in Los Angeles as part of the inaugural Abrahamic House fellowship. Since then, they have learned about each others' connections to their faiths, celebrated holidays, planned monthly programs about everything from will-writing to fasting, and braved a global pandemic together.