Despite stay at home orders coming into effect shortly after they moved into their new homes, the Inaugural Abrahamic House Fellows 2020 have been busy planning a myriad of interfaith programs and engagements for surrounding communities in Los Angeles and across the world!

LA Fellows Blog 2020
LA Fellows Blog 2020 July 13, 2020 Listening and Learning
Heading into our fifth month of our first year together in the Abrahamic House, we held a listening circle to check in with each other about where we are and where we're going. When we first met each other at the beginning of…continue reading
LA Fellows Blog 2020 May 29, 2020 Reflections on Iftaar
Instead of being able to welcome you into our home to share the best of the traditions we love, we're sharing a series of reflections on what it looks like to host and experience some of our holiest observances in an intimate,…continue reading
LA Fellows Blog 2020 April 30, 2020 Ridvan Reflections
"Verily, all created things were immersed in the sea of purification when, on that first day of Ridván, We shed upon the whole of creation the splendours of Our most excellent Names and Our most exalted Attributes. This, verily,…continue reading
LA Fellows Blog 2020 April 17, 2020 Celebrating Easter Together
On the night before Easter, we gathered up the chametz we'd collected as part of our Passover preparation and headed outside to kindle a new flame in commemoration of the resurrected Christ. This literal and metaphorical light…continue reading
LA Fellows Blog 2020 April 16, 2020 Reflections on Passover
From Passover to Easter and Ramadan to Ridvan, the first month of multi-faith observance in the Abrahamic House was primed to be potent. And yet, here we are in the midst of a global pandemic. Instead of being able to welcome you…continue reading
Previous Events
Holiday Celebrations
We came together to celebrate each of our four April holidays: Ramadan, Ridvan, Passover, and Easter. Read about our experience on our blog, and check out our Multi-Faith Holiday Guide here.
---
Ridvan Care Packages
As an April offering from the Abrahamic House, we sent out Ridvan care packages. Ridvan (pronounced "rez-vawn") is a 12-day festival celebrated by Baha'is. It commemorates Baha'u'llah's declaration in the Garden of Ridvan where he proclaimed that he was a prophet from God.
---
Fasting Symposium
We held a virtual symposium on fasting, featuring speakers discussing fasting in different faith traditions.
---
A Summit on Faith and Justice
What is the relationship between faith and justice? How can they inform one another? We held a special learning on the intersections of faith and justice.
---
Multi-Faith Devotional
We held a devotional– an informal, virtual space intentionally dedicated to sharing prayers and elevated text. This event's theme was "grandeur," a word which means "splendor, might, glory, or greatness," and is a reference to the Baha'i month (May) that the event falls in.
---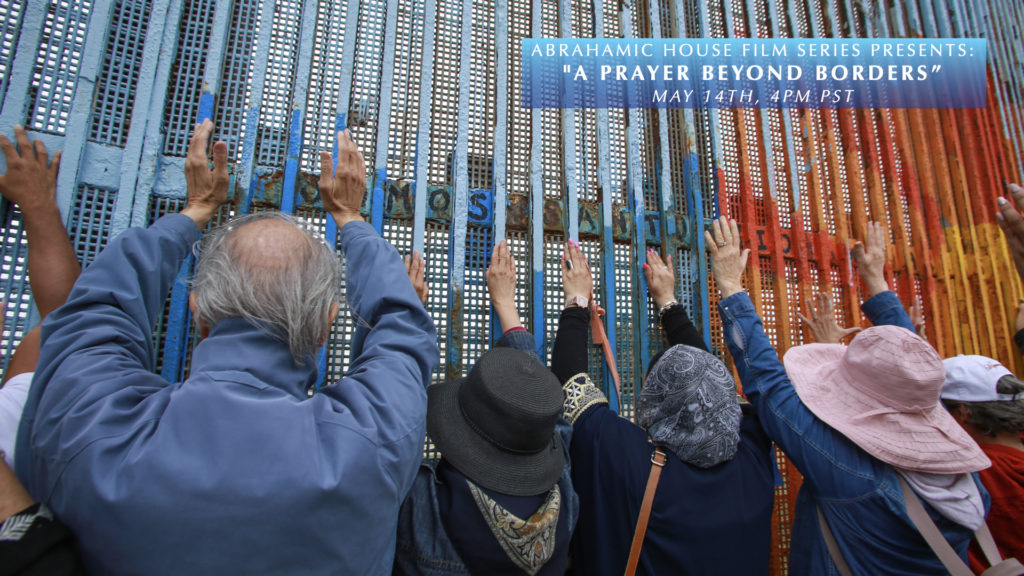 Film Screening: A Prayer Beyond Borders
We launched a new film series with a screening of resident Ala' Khan's short film, "A Prayer Beyond Borders." We watched the film together and heard from the filmmakers and community leaders about their work on the US Border.
---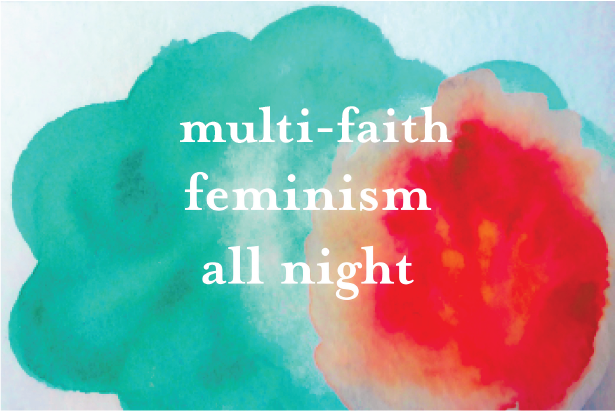 Multi-Faith Feminism All Night
In honor of the Jewish holiday of Shavout – a holiday that marking the celebration of wisdom by staying up all night to learn – we held a Multi-Faith Feminism All Night featuring workshops on feminism from all over the world.
---
Spiritual Will-Writing Workshop
One certainty all humans face, regardless of their background, is that one day we will all die. In this two hour interactive online workshop, we learned about established traditions for recording and passing on non-material assets and we explored new approaches to share and preserve the story of our lives.
---
New Moon Feminist Dance Party
Women, nonbinary, and trans people from all over the world came together for a New Moon celebration! We opened with a ritual / grounding meditation for the solstice and eclipse. And then DJ Lindsay Zae spun tracks from non-cis men artists. Throughout our dance party, we also raised funds for Trans Women of Color Collective.
---
Cooking with Abrahamic House
Our Fellows joined with The League of Kitchens' Argentinian instructor, Mirta, to learn how to make pillow-soft gnocchi, fresh pesto sauce, and a zesty oregano, tomato, onion, and avocado salad!
This 2.5 hour online class was a special, meaningful opportunity to share cooking, culture, and connection–just like our real life experiences.
---
Embodied Meditation
We joined together for an embodied interactive meditation experience that connected us with our heart, mind and body. Together we learned how to be with the anxious mind and how to rest into heartfelt connection.Watch Recording Here
---
A Conversation on Grace
We had a Grace-filled conversation, using the model of a Ben Franklin Circle. We explored the meanings behind this powerful virtue and what it looks like to practice Grace as an individual or in community, and we set intentions for living more Grace-fully in the month that followed.
---
Seva
We hosted a virtual film screening for Seva, a film by Rippin Sindher that explores the idea of selfless service from the Sikh perspective. After the screening, we had a wonderful Q & A discussion with Rippin and a couple others involved in the film.
---
A Center in A Table
We hosted a virtual dinner party as part of an ongoing performance-video series by LA based artist Amanda Maciel Antunes and brought together a group of people in sharing their collective memories regarding their relationships with food and one another. Watch Recording Here
---
Art Party
We hosted an art workshop that explored what community means. It was led by art educator and art therapist Savera Iftiukhar. We had a great time taking a break, reflecting, and expressing ourselves creatively.
Makam Shekhina
A multireligious community of Hebrew Priestesses and Sufi Dervishes led us in an immersion into Hebrew and Arabic chant. We prayed and played together in realms of counter-oppressive devotion. Led by Taya Ma Shere, Aliya Choudhery and Sukina Pilgrim.Watch Recording Here
---
Monday Night Live
Our Fellows gave us a peek at their weekly Monday night dinner meetings to see what was on the menu and the agenda. We got to hear about what they've been up to and ask questions of our own. Watch Recording Here
---
---
---
Artist Talks
The Fellows host a series of Artist Talks throughout the month of November. Each session features two to three artists sharing their work, their practice, and their faith.
Session 1 Featured: Kaija Sabbah – Goddess Culture @kaijasabbah Christina Rountree – Eyes Closed: Drawing the Missing Ummah www.christinarountree.com Maribel Valdez Gonzalez – Lesson Planning for Liberation https://sites.google.com/view/dreamteamstem/home?authuser=0Watch Recording Here
---
Session 2 Featured: Keisha Soleil (The Hood Alchemist) – You could be the greatest story ever told https://linktr.ee/keishasoleil Jack Pitts – St. Andrew and St. Thomas Insist on the Created World www.jacksonpitts.netElan Gerzon – Weaving in the Middle East and Beyond www.razalaweaving.comWatch Recording Here
---
Session 3 Featured: Amanda Maciel Antunes – Reflections on Time amandamacielantunes.com Verenice Berroa-Torres – Nature is here https://www.etsy.com/shop/cocreatingwithplantsWatch Recording Here
---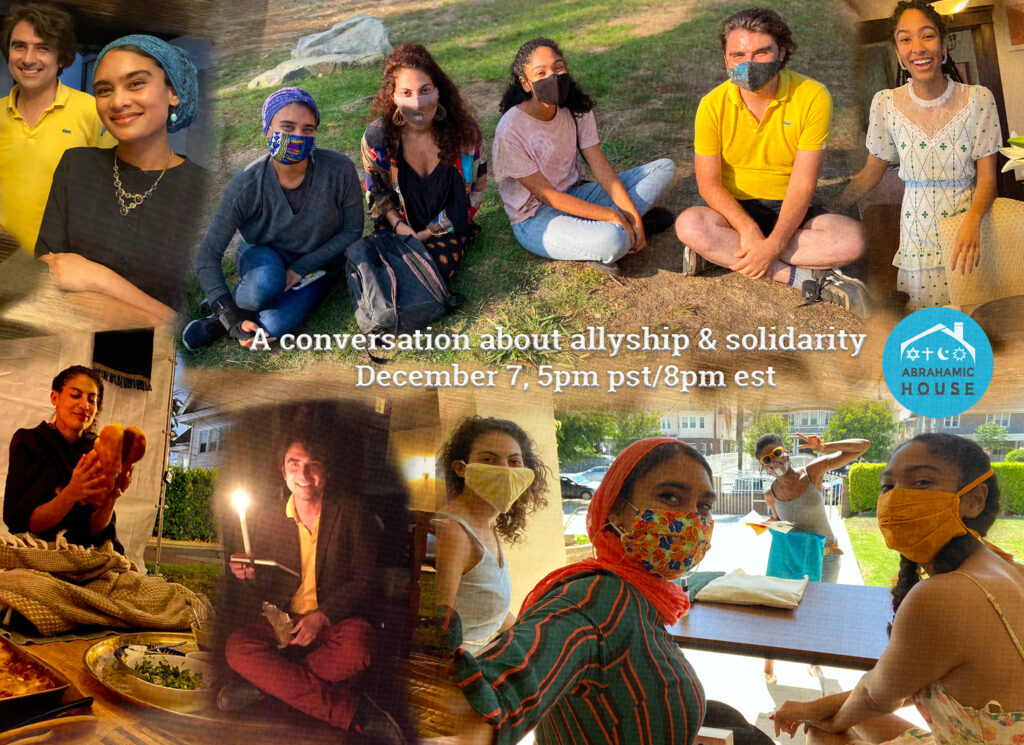 A Conversation About Allyship & Solidarity
Abrahamic House Fellows talked about what allyship and solidarity looks like in building safe and inclusive diverse communities.
This was also an opportunity for the audience to share what allyship means to them and be in conversation about how to build more just, respectful, and nurturing spaces.Watch Recording Here
---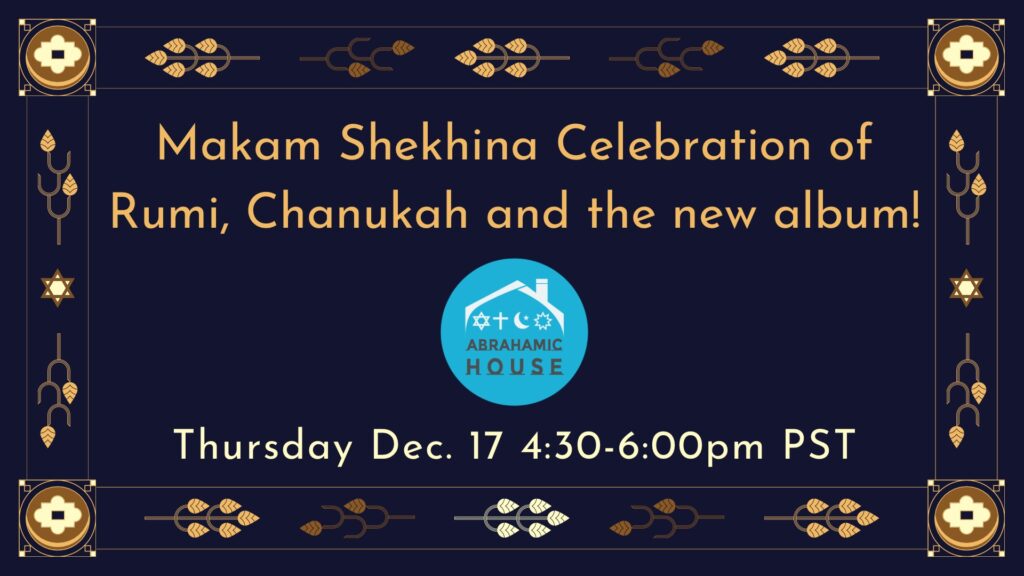 SO much to celebrate, as the Shebi Arus / wedding night of Mevlana Jelal ad-Din Rumi converges with the last night of Chanukah, and the coming winter solstice and birthday of the beloved Sheikh Ibrahim Baba Farajaje. Join Makam Shekhina community, as Taya Mâ and friends invite us into lush, percussive prayer in feminized Hebrew, English and Arabic, drawing liturgy from the multi-faith Jewish and Sufi Muslim community steeped in counter-oppressive devotion. This is also their album release party (!!!!) and we'll delight in delicious new tracks. With teaching from Abrahamic House Fellow Hadar Cohen, whirling from Miriam Peretz, and more! All are welcome!Watch Recording Here
---
Join Sheikh Ghassan Manasra and Rav Kohenet Taya Mâ Shere for a zikr (sufi prayer / chant), teaching and conversation, on this last day of Chanukah and afternoon of the Shebi Arus / celebrated death anniversary of mystic poet Mevlana Jelal ad-Din Rumi. Come, come, whoever you are ~ with an open heart, a desire for inspiration, nourishment, possibility and prayer. All are welcome!Watch Recording Here
---
Join the Abrahamic House community for a casual afternoon of getting to know one another! We welcome anyone who has been to one of our events in the past and those who are new to the Abrahamic House community. There will be opportunities to meet new people in breakout rooms, share stories, and network.
---
For many Christian communities the four weeks leading up to Christmas, known as Advent, is a time of expectation and preparation. In observance of this holy time, the Fellows will release a video meditation each Monday of this four week season inviting you to join our exploration of Advent's central themes: Hope, Peace, Joy, and Love.Advent I: HopeAdvent II: PeaceAdvent III: JoyAdvent IV: Love
---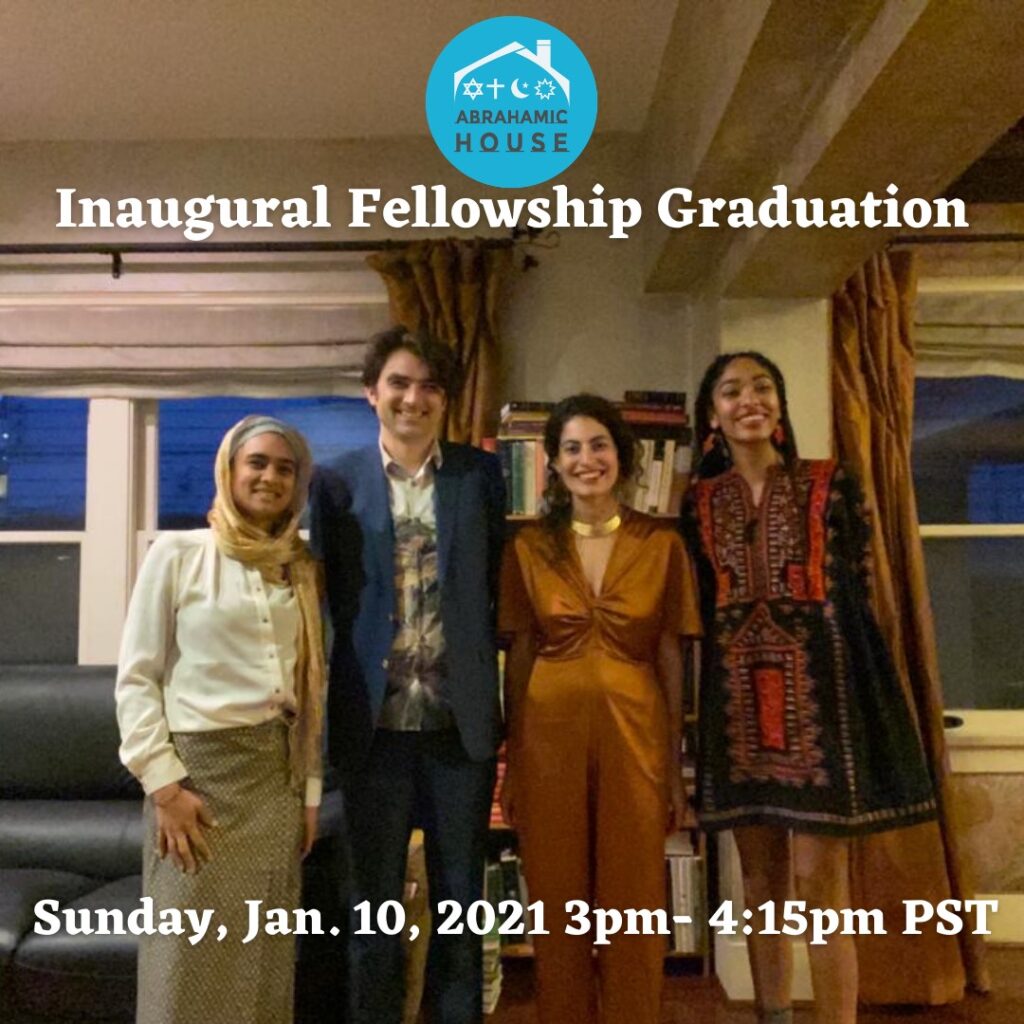 Inaugural Fellowship Graduation
Almost one year ago, four strangers from different faith traditions moved into a house in Los Angeles as part of the inaugural Abrahamic House fellowship. Since then, they have learned about each others' connections to their faiths, celebrated holidays, planned monthly programs about everything from will-writing to fasting, and braved a global pandemic together. Watch Here